Hello, sweet peas!
Okay, here it is. The very first – okay, not very first – English post on this blog.
Gosh, I'm excited. So excited, that I misspelled the word excited about three times right now. Anyway. You can keep any spelling mistakes I might make in the future.
With the decision made to switch to English on my blog, all the creative juices started flowing again. For example I came up with this – totally original, never seen before – thing, I will call "Welcome to mys(h)elf".
Do not judge me for this bad pun. I love puns. I had to make this really bad pun.
Basically I will show you one book from my TBR, how long it has been there, what it's about and so on. I hope that that will make me wanna read it at an earlier time and maybe you have read it already and can talk me into picking it up now and immediately and straightaway.
Watership down by Richard Adams
SINCE WHEN IS IT ON THE TBR?
Goodreads says it's on there since January 2019. I say – it has to be much longer than that. I know that because I saw this gorgeous edition when I was bookstore hopping on the England roundtrip I did with my best friend in late 2014. I'm rather sure I bought it back than or at least when I was back home. So, I'm sure I've had it for quite some time.
WHAT IS IT ABOUT?
Sandleford Warren is in danger. Hazel's younger brother Fiver is convinced that a great evil is about to befall the land, but no one will listen. And why would they when it is Spring and the grass is fat and succulent? So together Hazel and Fiver and a few other brave rabbits secretly leave behind the safety and strictures of the warren and hop tentatively out into a vast and strange world.
Chased by their former friends, hunted by dogs and foxes, avoiding farms and other human threats, but making new friends, Hazel and his fellow rabbits dream of a new life in the emerald embrace of Watership Down.
So basically rabbits. Lots and lots of rabbits.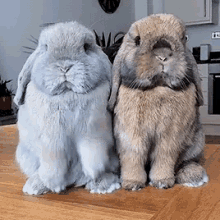 WHY HAVEN'T I READ IT YET?
I usually don't let myself be influenced by a TV or movie adaptation. We all know that the book is better 99,5 times out of 100. But even though I know that the adaptation is often quite different from the book itself, even I don't think that they invented all that violence that the tv-show depicted.
I mean, I know that nature is violence. I know that animals get killed in nature all the time, it's the circle of life, Simba, and when we die our bodies become the grass and the antilopes eat the grass.
Wait.
I just distincly remember a lot of blood and violence and being traumatised as a kid and my mom angrily asking me that if I'm crazy watching this show with my three year old sister before taking away the remote.
And even though I'm a full-fredged adult know, know everthing about Nature and The Circle of Life ™, I'm still kind of reluctant to read all about this rabbit-killing myself.
There are also a few reviews I read that weren't exactly encouraging. But I don't really wanna use that as an excuse.
So what do you think? Have you read it? Should I give it a try or continue to let it rot on my TBR until the Book Gods want it as a sacrifice?